Nearly $20 Million In Rare Coins And Currency Sold In Long Beach
Rare early proof coinage was featured as over $9.3 million in rare coins sold in the
September 6-9 Heritage US Coins Signature Auction
. The US Coin auction was one of four Heritage auctions held as official auctioneers of the Long Beach Coin and Collectibles Expo over the week. Overall, the Heritage Long Beach auctions combined to sell over $19.7 million in rare coins and currency. All prices include Buyer's Premium.
As any serious collector of 19th century proof coinage knows, proof coins of any denomination and year before 1858 or so are quite rare. As such, it should not be surprising that the two top prizes to change hands during the floor sessions of this auction were both pre-1858 proofs. A Gem Cameo proof 1853 quarter with Arrows and Rays, formerly from the Eliasberg collection, brought $94,000. In 1853, arrows were added around the date and rays were added to the reverse as a way of signifying a reduction in weight for both quarters and half dollars. While the arrows would remain until 1855, the rays were removed in 1854, making the Arrows and Rays design an important one-year subtype. Perhaps five proof 1853 Arrows and Rays quarters are known, making this example the most important issue among proof seated quarters.
Even rarer is the
1854 proof eagle
, a coin that was unconfirmed to exist until very recently, and which may very well be unique. This coin, whose provenance remains unknown, is an unmistakable proof despite a light amount of wear consistent with a grade of Proof-55, and it sold for $88,125 at the Long Beach auction.
The second edition of the Garrett-Guth Gold Coin Encyclopedia, published as recently as 2008, called the existence of a 1854 proof eagle doubtful. In the book, the authors related an unsubstantiated story about a set of 1854 proof gold coins presented to the city of Bremen. At the time of the book's publication only the gold dollar, $2.50, and $3 were known and none could be connected to the Bremen set. Should this 1854 eagle be the Bremen coin, it might begin to substantiate the story, while simultaneously suggesting the existence of at least one proof 1854 half eagle and double eagle.
Post-auction sales resulted in the
finest known 1897 double eagle
changing hands for $147,500. Proof gold coinage of the 1890s is known for its beauty, and this coin, assigned a grade of Proof-67 Cameo, combines unparalleled technical merit with aesthetic beauty. Only 20-25 examples of the proof 1897 double eagle are believed known.
The Philip Clover of US Large Cents, a nearly complete collection of early US large cents by variety, altogether realized over $900,000, led by a 1795 Jefferson Head cent with Very Fine details that sold for $38,187. This collection contained over twenty die marriages that were so rare that Dr. William Sheldon, whose Penny Whimsy remains the standard reference book for early large cents, considered them uncollectable.
Just a few of the other highlights of this auction included:
Our
Long Beach World and Ancient Coins auction
, held September 6-11, accounted for sales of nearly $7.9 million, highlighted by an
1820(B) gold Brazilian 4000 Reis
which sold for $129,250 against a pre-auction estimate of $50,000-$75,000. This coin, struck at the Bahia mint without a mintmark, is so rare that every reference we could find listed it simply as "Rare" or "Extremely Rare". The fact that this is also a mint state coin — graded MS62 by NGC — only adds to the tremendous appeal caused by the coin's extreme rarity.
Additional highlights of this auction included:
Cuba: Republic Proof gold 20 Pesos 1915, KM21, Proof 65 Cameo NGC. Sold for $99,875.
Danish West Indies: Christian IX Proof 10 Daler - 50 Francs 1904, KM73, Proof 64 NGC. Sold for $70,500.
Great Britain: Henry VIII (1509-47) gold Sovereign ND, S-2267, Tower Mint London (struck 1537-42), AU50 NGC. Sold for $64,625.
Thraco-Macedonian Tribes. The Edones. King Getas (ca. 480s-460s BC). AR octadrachm Ca. 476-473 BC. Kraay, Archaic and Classical Greek Coinage (Methuen 1976), pl. 26, 483. gEF. Sold for $55,812.
Rare Australian specimen notes dominated the results from our
September 6-10 World Paper Money Signature Auction
in Long Beach. A series of
one dollar
,
two dollar
,
five dollar
and
ten dollar
specimens, each from 1972, each exceedingly rare, and offered individually, sold for $21,150 per note. Joining each of these 1972 issues at the $21,150 level was a
specimen twenty dollar note from 1974
. Overall, this auction raised over $1 million for its consignors.
We are hard at work putting the finishing touches on our Dallas ANA offerings, which are scheduled for mid-October and include outstanding selections of both US coins and currency. These auctions will open for bidding very soon at HA.com/Coins and HA.com/Currency.
Seldom Seen Selections: Specimen strike 1793 Wreath Cent
Our upcoming
October 18-21 ANA US Coins Signature Auction in Dallas
will feature a
1793 Wreath cent in the incredible grade of Specimen 66 Brown
. This is the most perfectly preserved and singularly important early large cent we have ever had the privilege of offering at public auction. It will not be a bargain for its new owner, but then every time this coin has changed hands over the past 139 years it has cost its new owner dearly.
The condition of this coin is truly extraordinary. It was Breen's contention in his 1977 reference on proofs that this particular coin was struck on a burnished blank for presentation purposes. The surfaces do indeed display a brightness and vibrancy that is not seen on other Wreath cents we have encountered. Again, according to Breen, this piece is the one S-6 that most clearly qualifies as a presentation piece. The fields are bright and glow with semi-reflectivity. The design motifs also show an unparalleled degree of definition in all areas. Although there is no direct evidence of heavy metal flow in the fields, indirect evidence can be seen from the strongly bifurcated lettering around the peripheries, leading one to suspect that this coin may have been double struck. No surface flaws are immediately apparent. Examination with a glass does, however, reveal a speck of darker color to the left of the leftmost leaf above the date (a useful pedigree identifier), and a short angling mark on the cheek of Liberty. The color designation by NGC is Brown, and that is technically correct. However, in addition to the overall brown patina there is an overlay of olive with a strong presence of original red as well.
This coin is the Sheldon-6 variety, also known as the "Sprung Die" variety. This variety ranks among the most frequently encountered and easily recognized Wreath cents. In addition to the die bulge in the left obverse field that is present to some extent on all known examples of the S-6, this piece is lightly cracked from the bulge through the lower lip and on to the right border. Another crack appears in the upper right field, beginning at the sixth bead right of the Y, and other cracks are faintly visible in the lower hair curls. Equivalent to Die State V in the Breen Large Cent Encyclopedia, this is one of the last minted examples of S-6.
Breen used some numismatic hocus pocus to claim that the S-6 large cents were all part of the April 9, 1793, delivery of 12,000 Wreath cents. Certainly the S-6 was one of the earlier Wreath cent varieties minted, although it is clearly impossible to determine an exact date of manufacture. This piece is clearly a later state than the Die State II attributed in the S-6 census in the Breen reference. Nearly all of the census die states were determined through examination of photos, and in many cases those photographs were indistinct so that an exact die state determination was impossible.
Del Bland, whose condition census appears in the Breen Large Cent Encyclopedia, grades this coin MS61 and tied for second finest known, alongside the Richard Winsor-ANS coin. It is likely finer than the Winsor-ANS coin by a small margin. Only one clearly finer example of S-6 survives, and that piece also has a continuous provenance since the late 1800s. At our EAC grade of MS62, this is a true "museum quality" coin.
Website Tips: How to enter multiple coins into MyCollection simultaneously
If you wish to enter a large group of coins of the same type into MyCollection, you can choose to enter a group of coins by coin type, such as Indian Head cents, Morgan Dollars, and so on. Once you reach the Add Item screen within your coins MyCollection, the entry by coin type will be at the top of the screen.

Let's say that you have several Indian Head Cents. Choose the coin type "Indian Cents" in the drop-down box. You will see something like this: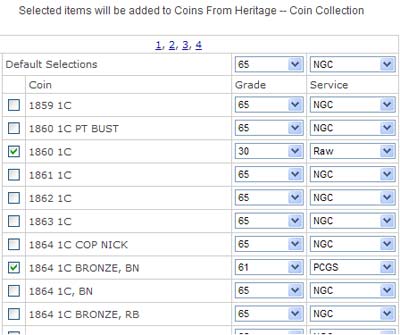 Check all the coins you wish to enter, noting the grade and the grading service as appropriate. Here, we've checked a raw 1860 cent in VF-30 condition and a PCGS-graded 1864 Bronze in MS-61 Brown. When you have checked every coin in this type in your collection, click on "Add Items". This will add all checked items to your collection and bring you back to the same Add Item page so that you can continue.
Click on the "Next>>" link to get to further listings of the type. Enter as many coins as you can from each page. Once you're done, a link will be available for you to review your entire collection, including newly added coins.
Please note that proof and circulation strikes from most series cannot be added at the same time; the only exceptions are modern commemorative and bullion coins.
This Week's Top Ten
The ten most valuable Large Cents, one per variety, to sell in Heritage auctions:
Do you have a suggestion for a future top ten list? Send it to us!