Early American Coinage Highlights Dallas Signature Auction Offerings
Several outstanding examples of early United States coinage will be featured as Heritage presents the Official Auction of the October 2012 National Money ShowSM in Dallas. Floor auction sessions are scheduled for October 18 and 19 at the show, with non-floor sessions scheduled through Heritage LiveTM on October 20 and 21. All bids in this Signature Auction are subject to a 17.5% Buyer's Premium.
Part 1 of The Greensboro Collection is the source for several of these outstanding rarities from the earliest days of our nation's history. The 1792 disme struck in copper is a landmark in U.S. coinage history, and unlike the more famous 1792 half dismes in silver, the disme patterns in copper are very rare. This experimental Judd-10 variety, struck with a reeded edge, is graded Proof 62 Brown by NGC.
Also from The Greensboro Collection are specimen strikings of two of the earliest US Mint issues. A 1793 Wreath cent with Vine and Bars edge, Sheldon-6 variety, was used to depict its variety in important 19th century photo plates by Levick and Crosby. Many collecting experts believe it must have been struck for presentation purposes, and the Specimen 66 Brown grade assigned by NGC, reflects that. This is a truly special coin among early large cents with vibrant and bright surfaces unlike any other Wreath cent.
The other Specimen is a
1794 half dime
, V-3, LM-3 variety, graded Specimen 67 by PCGS. This coin's reflective surface quality sets it apart from most of its peers, which have frosty luster. It is also the single finest Specimen half dime out of only a few for the year.
For the second time this year, we have the opportunity to offer one of the four known examples of the 1802 novodel proof dollar. It is our privilege to offer this one, graded Proof 64 by PCGS, just two months after our landmark offering of another example in August. This near-Gem specimen previously was in the collections of Virgil Brand and the Norweb family, and also comes to us from Part 1 of the Greensboro Collection.
Not an example of the earliest US coinage, but a rarity from the very first year of the fabled Carson City Mint, is an 1870-CC double eagle from The Gnome at the Shore Collection. There were fewer than four thousand 1870-CC double eagles struck and only a small fraction survive, making this XF40 example a highly desirable coin. The Carson City Mint, established in Nevada six years after statehood, is synonymous with the Old West in money lore. Bigger coins, such as silver dollars and gold double eagles, are the most famous.
As in any Heritage auction, there are numerous highlights. Just a few of them include:
Bidding is now open on these and the thousands of other collectibles in the Official Auction of the October 2012 National Money ShowSM, at HA.com/Coins.
Seldom Seen Selections: The 44th Greatest US coin
The 1833 proof half eagle holds the 44th spot in the third edition of Jeff Garrett and Ron Guth's
100 Greatest U.S. Coins
. It was struck during the opening year of the second Mint building in 1833, and is likely one of the first gold coins produced at the new facility.
The census of 1833 proof half eagles is hardly complicated, as only three or four are known, one in the Smithsonian Institution, and another in a tightly held private collection. Nothing is known of the third piece in the roster; it is an example graded PR63 by NGC, but its whereabouts are unknown to the collecting public. In our Dallas Signature Auction, we are offering the only example that will likely be available to collectors at any time in the foreseeable future. At Proof-61, it is also a lower grade than the others, meaning it is more affordable, relatively speaking.
The three traced proofs are all from the BD-1 or Large Date die pair, with no proofs known from the Small Date obverse die. There are also a couple of other pieces that have been called proof in the past, but are now considered prooflike business strikes. Dannreuther mentions the Smithsonian piece in his reference, but fails to mention either of the other two specimens.
This early die state proof shows no signs of clash marks or cracks, with slight evidence of lapping, as certain details are diminished. The reverse die was used with two 1832-dated obverse dies, and with two 1833-dated obverse dies. Examination of the large plates in John Dannreuther's Early U.S. Gold Coin Varieties, A Study of Die States, 1795-1834, clearly shows the progression of die lapping, especially at the eagle's talon that hangs down from the upper leaf pair.
The deeply mirrored fields of this green-gold proof surround satin devices, imparting a trace of cameo contrast. Proof finish appears in the recesses of the design, such as the letters of LIBERTY and the spaces between shield stripes. The fields are lightly hairlined with other minor surface marks expected for the grade. A hint of striking softness is noted at the usual spots, especially among the wing feathers just left of the shield. When it was offered 14 years ago, this piece was conservatively graded PR58 NGC, and that old grading event still appears in the NGC Census Report.
Website Tips: Buy Now and Minimum Offer for Make Offer to Owner lots
If you are participating in our Make Offer to Owner program, we have now made it possible for you to select both a Buy Now amount and a Minimum Offer amount on items that are eligible for the Make Offer to Owner program. You can set the minimum offer to anything you want, as long as it is at or above the minimum.

By clicking on the link to "Change the Minimum Offer amount and/or set your own Buy Now price", a window on the page will open up, allowing you to either add/change the Buy Now price, or to add/change a minimum offer. This allows you, if you like, to specify both a Buy Now price and a Minimum Offer price; for instance, you can set a Buy Now price of $1,500, but can still choose to be notified of any offers above $1,300.

Items with both a Buy Now price and a Minimum Offer price are distinguished in the search results by having both the Buy Now from Owner icon and the Make Offer to Owner icon visible. Once on the item page, the would-be buyer can choose between Buying Now at the designated price or Making an Offer.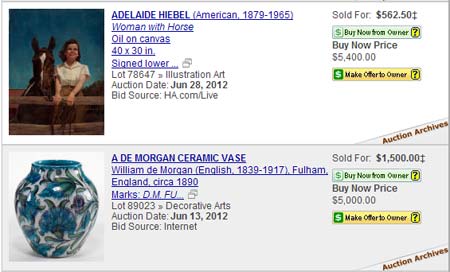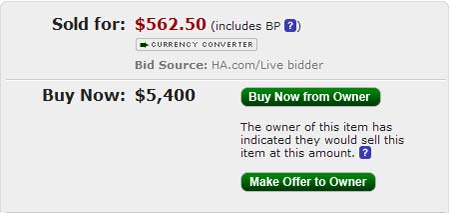 A desirable side-effect of this change is that it is now possible to remove a lot from Buy Now status. To do this, just blank out the Buy Now amount, and add a minimum offer amount if you choose. If both the Buy Now and Minimum Offer boxes are blank, then you will be notified of any offers above the default minimum.
This Week's Top Ten
The ten highest valued Asian coin lots to sell in Heritage auctions, one per country:
Do you have a suggestion for a future top ten list? Send it to us!