Century-old Fairbanks Alaska five dollar note coming to auction
A rare early
National Bank Note from Fairbanks, Alaska, with prestigious serial number 1
and a pedigree from the family of the city's namesake, leads the offerings in Heritage Auctions'
ANA Currency Signature Auction
, the official auction of the 2012 ANA National Money ShowSM in Dallas, Oct. 17-23.
The Series 1902 Red Seal $5 National Bank Note, Fr. 587, First National Bank of Fairbanks, Apparent Choice New 63, was issued in 1905 along with $10 and $20 denominations. The city of Fairbanks was named for a then-U.S. Senator from Indiana, Charles W. Fairbanks, who had been a key participant in the 1898 negotiations over the border between Alaska and Canada. The high-grade, low-serial-number note comes directly from the family of Charles W. Fairbanks, a striking pedigree that gives an already rare piece of currency even more importance. The estimate is $200,000+.
A major Featured Collection of U.S. currency auction, The John Henderson Collection, contains a number of important highlights. Chief among them is a
Fr. 2221-K $5000 1934 Federal Reserve Note, PCGS Very Choice New 64PPQ
. One of seven such notes discovered and offered to discerning private collectors in 2006, this example with two-digit serial number 55A is offered at public auction for the first time with an estimate of $120,000+.
A face proof for the Fr. 202 $5000 1863 Interest Bearing Note, a design unknown in issued form, is a rare opportunity to own a seldom-seen Friedberg number. A fascinating allegorical design with a woman dropping a pendant into a burning altar bearing George Washington's portrait adds further interest. The proof is estimated at $50,000+.
Further important Federal Reserve currency includes the unique
Fr. 788a 1915 $5 Atlanta note
with Bell - McCord signatures, PMG Very Fine 25, estimate $50,000+; a
Fr. 1132-G $500 1918 note
from Chicago, PCGS Extremely Fine 40, estimate $40,000+, and a
Fr. 1133-L $1,000 1918 note
from San Francisco, PMG About Uncirculated 55, estimate $50,000+.
Historic Gold Certificates also are among the highlights. A Fr. 1180 $20 "Technicolor" 1905, PMG Gem Uncirculated 65 EPQ, bears an estimate of $35,000+. A Fr. 1220 $1000 1922 certificate, PMG Choice Very Fine 35 Net, has an estimate of $40,000+.
Among the noteworthy Legal Tender notes up for bid are a
Fr. 161 $50 1880
, PMG Gem Uncirculated 66 EPQ, part of The John Henderson Collection, estimated at $30,000+, and a
Fr. 187j $1,000 1880
, PCGS Apparent Fine 12, with estimate of $35,000+.
An additional Western first-serial-number Red Seal National Bank Note, Fr. 588 1902 $5 from The Morgan County National Bank in Fort Morgan, Colorado, PMG About Uncirculated 55 Net, is estimated at $25,000+, while a Fr. 382 Original "Ace" from The Wyoming National Bank, Laramie City, Wyoming Territory, PMG Very Good 10 Net, is one of three known and is estimated at $37,500+.
This auction is open for bidding now at www.HA.com/currency.
Seldom Seen Selections: Proof 1849 Gold Dollar, Open Wreath, No L
The debate over proof 1849 No L, Open Wreath gold dollars boils down to a four-word question that only seems simple: "What makes a proof?"
PCGS has certified no 1849 gold dollars as proofs, but NGC has certified two. The PR64
Cameo example in our October Dallas Signature Auction was the first to be certified, as it is mentioned in the first (2006) edition of Garrett and Guth, whereas the PR62 specimen also in the Census Report goes unmentioned and so must have been certified later. Based on the Star designation, NGC recognizes this coin's eye appeal and quality by proof standards, which crystallizes how strongly NGC felt about the topic when it encapsulated the piece.
Perhaps the only universal criterion for "proof" in U.S. numismatics is the intent to make a special coin. While there are varying degrees of quality for regular-issue or business-strike coins, a proof is meant to be set apart from those peers -- apart and above. That said, the difference between a quality "prooflike" business strike and a true proof can be hard to discern, and the farther back in U.S. numismatic history one goes, the hazier the boundary gets. This is especially true in the pre-1858 era, when proof production was irregular and many protocols that apply to later 19th century issues were not in place.
Further complicating matters for the 1849 No L, Open Wreath gold dollar proofs is that the mintage was relatively small and many coins were saved, so the proportion of "prooflike" survivors is high — muddling the question of whether true proofs exist. The one coin that has the most published acceptance of any claimed proof 1849 gold dollar ("unquestioned" according to Bowers, "indisputable" per Garrett and Guth in their Encyclopedia of U.S. Gold Coins), acquired in 1849 and now in the National Numismatic Collection of the Smithsonian Institution, has been harshly cleaned on the reverse; effectively, it is called a proof based on one side's "prooflikeness," for its acquisition the same year it was struck is mere circumstantial evidence.
The existence of proof 1849 No L, Open Wreath gold dollars rarely has been in question, even as the statuses of various coins have come under scrutiny. Mint records do not indicate the striking of any proofs, but as the historical record shows for other coins, this is hardly a disqualifier. Walter Breen gave multiple estimates of the number of proofs extant, never more than a dozen; David Akers too evolved with time, from "seven to eight" with two auction appearances in his landmark book series from the 1970s to "nine or 10" in his 1984 cataloging of a coin he believed to be a proof.
The overriding question for the example in our Dallas auction is not "What makes a proof?" but rather "What else could this coin be?" The deep mirrors, pale sun-yellow or glossy "black" depending on the angle of the light, do not suggest a "prooflike" trick but an honest attempt at making a coin special; the same goes for the frost on Liberty's portrait, the 13 stars around that show complete centers (!), and the reverse wreath. Light linear flaws through the letters ITE of UNITED suggest die cracks, but this alone has little bearing on the coin's seeming proof status. Three parallel depressions between the left ribbon end and the U of UNITED may serve as a pedigree marker.
Website Tips: Adding images of items to MyCollection
The Heritage "MyCollection" feature allows you to link your collectable automatically to any image you choose.
To link an image to your item, go to its listing within "MyCollection". Click on the corresponding link.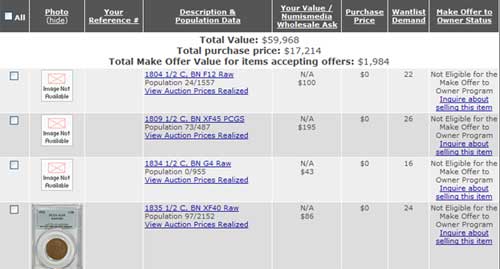 This will bring up a menu that will allow you to edit specific information corresponding to your coin.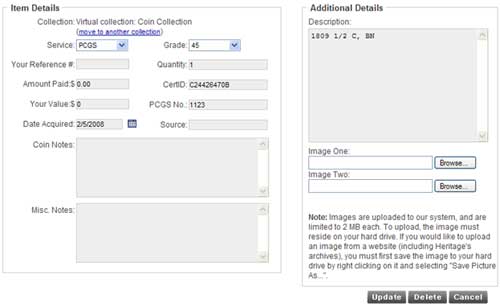 On the right side of this page are two boxes entitled "Image One" and "Image Two". To get your picture to appear, just click on the browse button and find the image. For space reasons, images are limited to 2 MB each.
To save the images and any other changes, click on the Update button. Once you go back to your collection listings, you will see the image(s) appear.
Of course, once you have started up any collection under MyCollection, any item that you have ever bought directly from Heritage will be automatically added to your MyCollection. You need do nothing more in order to have a complete listing of these items, including purchase price and images!
This Week's Top Ten
The ten most valuable patterns to be sold in Heritage auctions:
A repeat appearance of one coin has been omitted. Coins commonly collected along with regular issues, most notably gold Stellas, have also been omitted.
Do you have a suggestion for a future top ten list? Send it to us!