1895 Cameo Morgan Dollar Highlights Houston Event
A
proof-only 1895 Philadelphia Morgan dollar, PR66 Cameo PCGS
, leads the thousands of lots up for bid at our
November 2012 U.S. Coins Signature® Auction
, the official auction of the Money Show of the Southwest, with floor sessions scheduled for Nov. 29-30 in Houston and live bidding sessions December 1-2 at
HA.com/Coins
.
The 1895 Morgan dollar is one of the all-time famous rarities. Morgan dollar enthusiasts dream of owning any specimen from the issue of just 880 proofs, so our offering of this high-end example — a gorgeous PR66 Cameo survivor — will thrill the winning bidder.
Another high-end silver coin is an 1896-S Barber quarter, MS66 NGC, considered among the half-dozen finest available. The 1896-S is the first of three San Francisco Barber quarters that form the key dates of the series. While it has the highest mintage of the three and generally is considered to be the most common in lower grades, in better-than-Gem condition, it rivals the more famous 1901-S quarter in rarity.
Important 19th and 20th century gold includes a 1911-D quarter eagle, MS65 NGC, once again an important key-date coin in high grade; a scarce and unusual 1834 Classic Head half eagle with Crosslet 4 in Date, MS62 PCGS, and a 1929 double eagle, MS64 PCGS, a heavily melted later Saint-Gaudens issue struck in the year of the infamous stock market crash that popularly marks the start of the Great Depression.
Private and semi-private coins, tokens and medals are an uncommon and welcome strength of this auction. A silver
1783 Chalmers Shilling with Long Worm reverse, AU58 PCGS
is a well-preserved example of the private coinage created by Annapolis silversmith Captain John Chalmers for local circulation. Also notable are a wide selection of the Hard Times Tokens created by Dr. Lewis Feuchtwanger, tireless self-promoter of his pet alloy of copper, nickel, and zinc. A representative leading light is a rare
1837 three-cent Feuchtwanger token with Eagle Reverse, MS63 PCGSM
.
Of similar rarity is an 1874 restrike in copper of the 1861 Confederate cent, PR65 Red and Brown PCGS, one of 55 such pieces struck by John W. Haseltine from the dies clandestinely created by Philadelphia diesinker Robert Lovett, Jr.
Of a far more official character is a 1925 Norse Gold Medal, PR66 PCGS, CAC, a medal congressionally authorized in lieu of a commemorative coin and struck from dies created by Buffalo nickel designer James E. Fraser. Just 47 of the gold medals were sold, compared to far higher tallies for the silver and bronze versions.
Bid on this auction now at www.HA.com/coins.
Seldom Seen Selections: 1861 Confederate Cent, the Haseltine Restrike
The important and rare Confederate States of America restrike cents produced in the mid-19th century by John W. Haseltine must not be confused with the later — much later — restrikes produced by Robert Bashlow, coins that have heavy die cancellation marks on them. Our upcoming Houston US Coin auction, taking place November 29 - December 2, features one such restrike cent.
The story goes that Robert Lovett, Jr., of Philadelphia, the designer of the dies and a prolific diesinker, was approached in 1861 in Philadelphia by agents of the Confederate States of America to design dies for a Southern coinage. Lovett stated that he struck 12 original cents in copper-nickel but never delivered them; he feared federal charges of treason, the Civil War having commenced by that time.
For the Confederate States of America cent, Lovett chose an obverse that some call the "French Liberty Head" design, a left-facing Liberty with traditional pileus, a symbol of liberty, on her head. Long tresses flow down her back and onto the rear area of the sharply truncated bust. The CONFEDERATE STATES OF AMERICA encircles the periphery, with the date 1861 below. The reverse wreath is composed of a bale of cotton at the bottom center with bow above, tobacco, corn, maple, and two barrels.
In another move that Lovett would likely later also consider unwise, he signed the cotton bale at lower reverse with a prominent L initial, quite prominent on this example.
The CSA Restrikes were struck in 1874 by Haseltine, who had acquired the dies for the then-unknown Confederate cents from Lovett. Impressions were made in copper (but none in copper-nickel, a smart move on Haseltine's part), to the extent of a reported 55 pieces; rarer gold and silver strikes were also produced.
This Gem Red and Brown PCGS-certified example is yet more important, as one of the finest in color and grade that that service has graded. No Red examples are known to PCGS, and this PR65 Red and Brown is one of only two such pieces. Under a lamp, considerable mint red outlines the devices and legends on both sides, with some lovely brown and purple field accents. One could easily imagine a late-series Indian cent that offers similar coloration, and neither side displays any mentionable contact. Quite the contrary, the sharp proof strike, beautiful color, and pristine surfaces mark this coin for high eye appeal, as does the CAC approval that accompanies it.
The CSA Restrike cents are so rare that they appear on the market fairly infrequently. In 2008 we offered a PR63 Red and Brown PCGS example that finally crossed the auction block for a winning bid of $31,050 in our FUN Signature Auction. In January 2010, a piece in the PR65 Red and Brown grade sold in a Stack's auction for $43,700, lot 3754. In January 2008, a piece in PR65 Red and Brown PCGS brought $48,300 at Stack's, lot 88. This piece is not an obvious plate-match with either of those Gems.
Website Tips: Get Alerted When Your Lot Is Coming Up For Auction
Now at HA.com, you can receive Text (SMS) reminders on your smartphone, to remind you when a lot you have bid on, tracked, or consigned is coming up for Live Auction.
For any lots you choose, we will send a text message approximately 20 minutes before the lot comes up for Live Auction. This feature gives you the opportunity to not be outbid once the lot you want goes up for Live Auction — or you can choose to watch along with the auction as the hammer falls.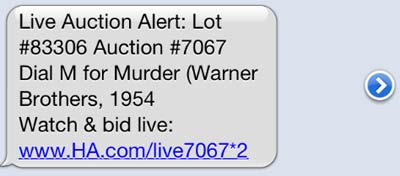 If you haven't already signed up to receive text messages, just go to MyProfile and enter your mobile phone number. We will send you a confirmation text message. To activate this service, just reply to the confirmation message with 'yes'. Heritage doesn't charge for this service, but standard text messaging rates may apply from your carrier.

Once you're signed up to receive text messages, there are two ways you can sign up to receive live bid notifications. As you place your bid, the bid confirmation page contains a link where you can click to enable the live bidding text messages. Once you click on this link, you're set up. The link is also available on the bid results page if you're the high bidder on the lot.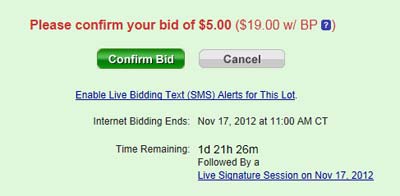 You can also add text alerts from MyBids, MyTrackedLots, or MyConsignments. Click on the checkbox to the left of all lots for which you wish to receive notices. Then, from the Lot Actions dropdown immediately above or below the lot listings, choose "Enable Live Bidding Text (SMS) Alerts" and click "Submit".

If you have Live Bidding alerts enabled, you will see a green icon next to the MyBids/MyTrackedLots/MyConsignments listing.

Live Bid notifications are available for all items in live auction sessions, regardless of whether there is a floor session or not. They are, of course, not available for our weekly Internet-only auctions.
This Week's Top Ten
The ten highest valued coins in Heritage auctions struck in US mints closed by the Civil War, one per coin:
Coins included were struck in Charlotte, Dahlonega, and New Orleans in 1861 and earlier.
Do you have a suggestion for a future top ten list? Send it to us!