Gold Advisory from Heritage Auctions: Pre-1933 U.S. gold coins offered "protection and comfort" in fluctuating market
Recent analysis by gold experts at Heritage Auctions demonstrates that, during the collapse of gold prices over the last few days, generic (i.e. common date pre-1933 US $5, $10 and $20 gold coins) market premiums for numismatic gold provided a solid hedge against the fall of bullion prices.
"Gold's dramatic drop over the last two trading days has shown that the premiums of generic U.S. gold can soften the blow when the markets turn sharply," said Doug Baliko, Vice President of U.S. Gold and Numismatic Wholesale at Heritage. "Generic gold gives buyers the opportunity to gain with the change in the spot price, and limit their losses when metals prices fall."
"This has proven to be true over the last several days," added Baliko. "With gold dropping from $1565 on Thursday to yesterday's close of $1386 ($179) the price of generic $20's only fell by between $55 (for MS61 $20 Saint Gaudens) to $105 (for MS63 $20 Liberties). Why? Strong public demand and limited available generic product even as the spot price tumbled, affording owners an added level of protection and comfort."
Favorable conditions exists for buyers and collectors holding pre-1933 common date US gold coins and especially those who were wise enough to trade their modern bullion such as Eagles, Maple Leafs and Krugerrands for the earlier US coins.
The most recent 9 Year Coin Premium Analysis can be accessed here.
Heritage specialists are available to advise clients and potential clients at 800-872-6467, ext. 1335, or email Doug@HA.com.
Seldom Seen Selections: An outstanding and very rare 1828 half eagle
Taken as a whole, the Capped Bust Left half eagles of the 1820s are probably the rarest group of coins in the U.S. federal series. Famous ultra-rarities like the 1825/4 (two examples known) and the 1822 (three known) have dominated numismatic headlines whenever a specimen was offered. Our
2013 April 24 - 28 CSNS US Coin Signature Auction
features a coin that represents a date and variety that can hold its own even in that august company, the famous, very rare
1828 BD-4 half eagle
.
Mint records indicate that 28,029 Capped Bust Left half eagles were struck in 1828, with that smallish total split between four different die varieties. Two of the varieties have a perfect date, while the other two are overdates, 1828/7. The coin we are offering displays a perfect date, and stars 1 and 13 are positioned close to the bust, identifying the BD-4 variety. The other perfect date variety of this year, the BD-3, shows the stars much further away from the bust. Experts estimate that the BD-4 variety probably accounted for more than half of the reported mintage, approximately 15,000-20,000 pieces.
John Dannreuther and PCGS both estimate the surviving population of the BD-4 at 12-15 pieces, but we can account for only nine separate examples. PCGS and NGC have combined to certify nine coins in all grades over the years (3/13), and that total probably includes some duplication. Both services list a single specimen in MS65, but those certification events almost certainly represent the same coin. As MS64, this coin is acknowledged by most experts to be the second-finest known.
The 1828 BD-4 is known in a single die state, Bass-Dannreuther Die State a/b. The crack between 5 and D in the denomination, seen on all examples of the BD-4, is easily visible on this specimen. This variety was the only use of the obverse die, but the reverse was used to strike the extremely rare BD-3 variety of this date and the 1829 Large Date variety.
This coin is a spectacular Choice example with sharply detailed design elements in most areas, although a touch of softness is apparent on the hair around Liberty's face and the eagle's wing. For some reason, this central weakness is seen on almost all examples of the 1828. The star centrils are complete, and the claws and feathers are all sharp. The attractive yellow-gold surfaces display vibrant mint luster and many areas of prooflike reflectivity, with outstanding eye appeal.
With an auction history that began at least as early as 1865, the 1828 half eagle has always been a valuable, sought-after date, even though its infrequent appearances have caused the issue to be somewhat out-of-sight, out-of-mind over the last two decades. This coin is the second-finest known example of this very rare variety. It may be decades before a comparable specimen becomes available, so the discerning early gold specialist should bid accordingly.
Website Tips: Buy Now and Minimum Offer for Make Offer to Owner lots
If you are participating in our Make Offer to Owner program, we have now made it possible for you to select both a Buy Now amount and a Minimum Offer amount on items that are eligible for the Make Offer to Owner program. You can set the minimum offer to anything you want, as long as it is at or above the minimum.

By clicking on the link to "Change the Minimum Offer amount and/or set your own Buy Now price", a window on the page will open up, allowing you to either add/change the Buy Now price, or to add/change a minimum offer. This allows you, if you like, to specify both a Buy Now price and a Minimum Offer price; for instance, you can set a Buy Now price of $1,500, but can still choose to be notified of any offers above $1,300.

Items with both a Buy Now price and a Minimum Offer price are distinguished in the search results by having both the Buy Now from Owner icon and the Make Offer to Owner icon visible. Once on the item page, the would-be buyer can choose between Buying Now at the designated price or Making an Offer.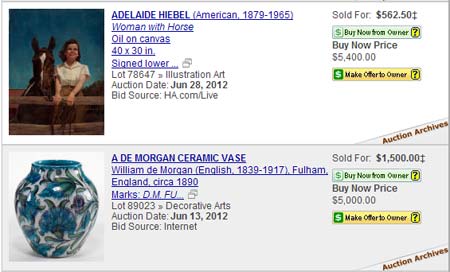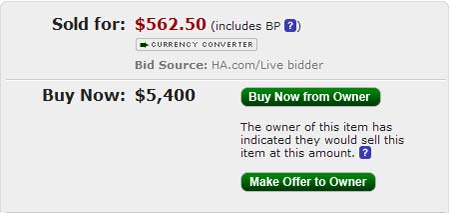 A desirable side-effect of this change is that it is now possible to remove a lot from Buy Now status. To do this, just blank out the Buy Now amount, and add a minimum offer amount if you choose. If both the Buy Now and Minimum Offer boxes are blank, then you will be notified of any offers above the default minimum.
This Week's Top Ten
The ten most commonly offered pre-1933 gold coins in Heritage auctions:
1904 $20
1924 $20
1907 Saint-Gaudens $20, Arabic Numerals
1909-D $5
1926 Sesquicentennial $2.50
1927 $20
1932 $10
1873 Open 3 $20
1908 No Motto $20
1914-D $2.50
Do you have a suggestion for a future top ten list? Send it to us!