Canadian 1936 Dot Cent brings $248,750 in $10.4+ million CICF Auction
The renowned
Pittman-Krause 1936 Canadian Dot Cent
, the most famous coin in Canadian numismatics and one of just three known to exist realized $248,750 during Heritage Auction's
World & Ancient Coins Signature® Auction
at the Chicago International Coin Fair, April 18-23. Overall, this auction realized nearly $10.5 million, with sell-through rates of 92.8% by value and 90.9% by lot.
The George V 1936 Dot Cent, MS63 Red PCGS, Ex: John Jay Pittman Collection, is far and away the most famous of the three known Dot cents, having been stolen from the Pittman home in 1964 and later returned (with scratches in the right obverse field) in an envelope with other coins.
The World & Ancient Coins event offered more than 5,800 lots across six sessions held live and online. Several lots of the unprecedented selection of high-grade ancient and world coins exceeded their estimates, including a Victoria gold Proof Una & the Lion £5 1839, which brought $105,750, an iconic design rarely seen even by the world's most experienced collectors. In addition, a Nicholas I platinum 12 Roubles 1835 CПБ, AU55 NGC realized $95,000. Very few survivors are known, as minting of platinum 12 Roubles ended in 1845 when all platinum coins were recalled and melted. The 1835 is especially rare, with a tiny original mintage of just 127 pieces.
The auction's cornerstone collection was The RLM Collection of Brazilian Gold, which realized nearly $1.2 million. Featuring 131 gold coins from Portugal's richest colonial territory, the collection's top lot was a 1729 Joao V gold 12800 Reis of the Second Shield Type AU Details NGC, which reached $64,625.
A
choice commemorative 1916 dollar struck in gold
, issued on the installation of Yuan Shih-kai as the Emperor Hung Hsien, MS64 NGC, more than doubled its pre-auction estimate to sell for $58,750, and a superb
1740 French Louis XV Essai gold Ecu au bandeau AU Details
, one of the rarest French issues known, sold for $44,062. A
1818 Maximilian I Josef Pattern Taler in gold Proof 62 Cameo PCGS
, a notable gold Bavarian pattern coin, realized $29,375.
A standout among the Ancient coins section was a superlative Chalcidian League Tetradrachm, circa 390 BC, which realized $30,550, more than double its pre-auction estimate. The rare find hails from the short-lived defensive coalition of the free cities of the Chalcidice in ancient Greece, who banded together to ward off Athenian and Macedonian imperialism of the time.
The first selection of more than 1,200 original dies and hubs cut by satirist and engraver Karl Xaver Goetz, one of Germany's most prolific medal artists of the 20st century, realized over $150,000 overall, led by six lots relating to his infamous Watch on the Rhine medal, which reached a combined $15,915. Future selections from the collection will be offered again in September 2013 with the final selection offered in April 2014.
1913 Liberty Nickel sells for $3,172,500 to highlight Platinum Night
The
Walton Specimen of the famed 1913 Liberty Nickel
headlined Thursday night's
Platinum Night session
of the
Heritage CSNS US Coin Auction
, as it sold to a floor bidder to $3,172,500. This famous coin, one of five known, was owned for many years by George O. Walton. When Mr. Walton was killed in an auto accident in 1961, this coin was retrieved from the scene, but was subsequently declared to be fake, and was believed so for many years. In 2003, it was reexamined and declared to be the genuine article. Subsequently on display at the ANA Money Museum for many years, this was its first appearance at public auction.
This was by no means the only highlight of Platinum Night, with two other coins breaking the million dollar mark. The unique 1783 Type Two Nova Constellatio Quint, a pattern struck to exemplify a proposed monetary system for the newly independent American colonies, broke the seven figure mark when it sold for $1,175,000. Last offered 34 years ago in the Garrett sale, this coin combines rarity and historical significance to such an extent that the famed numismatist John Ford once offered a client the following advice: "Just buy it — whatever it takes — buy it!"
Matching the Quint at $1,175,000 was a 1796 Small Date, Small Letters silver dollar, graded MS65 with the green CAC sticker of approval. Of the three 1796 Small Date, Small Letters varieties, this coin is the finest graded by a full two points. This coin was the subject of intense bidding on the auction floor, with no fewer than seven bidders participating before the coin found its new home.
Immediately before the Platinum Night sessions came the auction of selections from
The Eric P. Newman Collection
, highlighted by an amazing
1852 Humbert ten dollar cold coin in MS68
which sold for $1,057,500. These coins are from the extensive collection of Eric P. Newman Numismatic Education Society (a Missouri not-for-profit corporation) and have been assembled over a period of 90 years. Proceeds of the sale of all items will be used exclusively for the benefit of other not-for-profit institutions selected by Eric P. Newman Numismatic Education Society for public purposes and also for supplementing the Society's own museum operations and scholarly research efforts.
The Platinum Night sessions brought in nearly $24 million, with the selections from The Eric P. Newman Collection selling for nearly $4.1 million. The Heritage CSNS US Coin Auction continues through Sunday, April 28, with over $40 million in rare coins expected to change hands overall.
Sold! Steve Ivy Lifts Heritage Auctions To No. 1
By Scott S. Smith, For Investor's Business Daily
The business of items with historic meaning and investment value is booming.
And Heritage Auctions is collecting.
The Dallas firm is the world leader in collectibles, recently selling:
A signed copy of the Beatles' "Sgt. Pepper's Lonely Hearts Club Band" album for $290,500.
Lou Gehrig's 1927 New York Yankees jersey for $717,000.
Gen. Ulysses S. Grant's sword for $1.7 million.
Read More At Investor's Business Daily.
Website Tips: MyBids
MyBids is a very powerful tool for you as a bidder to keep track of all of your bids, present and past, from any Heritage site.
When you first arrive at the MyBids page, you'll see something much like this:


At top will be the collectible type whose bids you are reviewing, such as Coins or Comics. If you wish to look at bids from another Heritage site, choose the site from the drop-down list: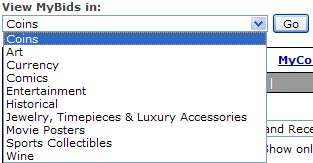 Click on the "Go" button to the right of the listing in order to change sites. This will show you your bids in all auctions on the other site, and it will take you to the MyBids page on the appropriate site. For instance, if you have placed a bid on one of the many intriguing letters or books in our current Books or Manuscripts Grand Format Auctions, choose "Historical", and you will be taken to the MyBids page on the Historical site.

Next is an area where you can choose exactly which bids to examine. By default, the page will show you bids from all current auctions on the site you're currently on, ordered by when Internet bidding closes, with totals covering all of your current bids in this collectible type. To look at your bids from an individual auction, choose it from the drop-down menu in the center. This will show you totals and bids only from that particular auction.
If you are interested in examining your bids from closed auctions, click on the "Closed Auctions" link. By default, this page will show you bids from all auctions that closed in the last ten days, but you will still be able to choose to look at your bids in any particular auction by, again, simply choosing it from the drop-down menu.

Below this come your actual bids, either from all auctions or from an individual auction. The columns are:
A thumbnail photo of the lot.


The lot number. Click on the link to see a full description and image of the lot.


The lot's description, including category, short description, reserve status, and possibly certain other features.


The lot's grade, if any.


The number of people who have bid on the lot, as well as the number of people who have tracked it.


Your maximum bid. This is the number you entered when you made your bid, and this is the bid that will stand for you against all other bidders. If this number is green, you have the winning bid. If this number is red, someone else has the winning bid. The number in parentheses is the maximum bid plus the Buyer's premium.


The current bid. This is what the winning bidder will pay for the lot if the auction ends right now, with the buyer's premium added in parentheses. This is also what other bidders will see if they look for the current bid on the lot.


The next bid. This is the minimum amount any future bidder can bid on the coin, again with the buyer's premium added in parentheses. Notice in this case that if someone bids this minimum amount on this coin, your $75 bid will work for you and you will still have the winning bid.


Batch bids. From the MyBids page, you can place bids on any lots you have already bid on. See Batch Bidding for more details.


The time remaining for internet bidding in the current auction. This figure does not update itself, so if it is getting close to auction close, you will need to refresh your browser periodically to see the actual time remaining.


This Week's Top Ten
The ten most frequently offered coins in Heritage auctions with a face value of 50 cents or less:
1938-D Buffalo nickel
1909-S VDB cent
1943 half dollar
1932-S quarter
1893 Isabella quarter
1917 Type 1 quarter
1932-D quarter
1942 half dollar
1931-S cent
1914-D cent
Do you have a suggestion for a future top ten list? Send it to us!