Rare 19th Century Proof Coinage highlights Long Beach selections
An outstanding selection of rare proof coinage from the 19th century highlights our offerings in the upcoming
2013 June 6 - 9 US Coin Signature Auction
, to be held in connection with the Long Beach Coin & Collectibles Expo. This auction will open for bidding soon at
HA.com/coins
.
An extremely rare branch mint proof 1895-O Morgan dollar is, as an NGC-graded Proof 66 Cameo, the finest of only five known proof or specimen strikes of this issue. Struck from heavily polished and lapped circulation strike dies, this piece is clearly something special, perhaps produced for a special occasion or visitor. This coin is profiled in more detail below.
Four dollar gold pieces, or Stellas, grab collectors' attention unlike any other denomination of US coin. Struck for only two years (1879-1880) as an early attempt at an international coinage, only the 1879 Flowing Hair variety comes on the market with any frequency, and this auction contains an outstanding example. Graded Proof-66 Ultra Cameo by NGC, is surpassed as a Deep or Ultra Cameo by only two coins at the major grading services combined.
The three dollar gold piece is another odd denomination, which, although much more affordable than the Stella, still commands high prices whenever it's encountered as a proof. The 1876 is from the second year of a two year run of proof-only issues, and while it is not as rare as the 1875, the tiny mintage of 45 coins necessarily limits its ability to collectors. This piece, graded Proof-65 Cameo by NGC, is surpassed in numerical grade by only six coins at the major grading services combined.
Although it was struck a few years after the close of the 19th century, the proof 1904 double eagle in this auction deserves special mention. Certified as Proof-67 Cameo by NGC, this coin is, simply put, the single finest certified example of the issue, and a must for the collector who wants the best. Proof 1904 double eagles are quite rare, unlike their circulation strike counterparts, and examples with significant cameo contrast are even more unusual.
Just a few of the many other highlights of this auction include:
Bidding on this auction is expected to open in a few days. As always, we are looking for outstanding consignments for our next auction, scheduled for July 11-14 at the Summer FUN show in Orlando. To consign your material, please give us a call at 1-800-872-6467, x1000.
Seldom Seen Selections: The finest of five known proof 1895-O dollars
The existence of a branch mint proof 1895-O dollar was unknown and unsuspected until recently. In Walter Breen's comprehensive 1977 proof
Encyclopedia
, he mentions the existence of an 1895-O quarter and half dollar, but no mention of a dollar. Wayne Miller's 1986 dollar reference mentions many known, probable, and even definitely-not-proofs. The Anita Maxwell Trust Collection of Silver Dollars, sold in our 1995 ANA auction, had eight branch mint proofs, but no 1895-O. At that time none were even rumored to exist. Today five examples have been certified by NGC: two non-Cameo coins, one Cameo, and two Specimen strikes. Of those five coins,
the coin we are offering in our upcoming Long Beach auction
is the highest graded, as NGC has encapsulated it in a Proof-66 Cameo holder.
Wayne Miller refers to a lightly hairlined coin he once owned that others (himself excluded) believed to be a branch mint proof. Otherwise the traditional literature on Morgan dollars is silent about the existence of proof 1895-O dollars. One must assume these pieces were considered by Miller and others as Deep Mirror Prooflike coins. But even the most casual glance at this coin shows that it is clearly not a business strike Morgan dollar. It does, however, follow the pattern of almost all other known branch mint proof dollars (except the 1879-O) in that it was struck from known circulation dies. There is nothing special about the VAM-3 variety. It is notable only for slight doubling at the top of the 5 in the date. But as with other branch mint proofs, this coin was adapted from existing dies. New Orleans Mint personnel obviously had a need for special strikes for some occasion or person(s), and they specially treated the VAM-3 dies. However, unlike some branch mint proofs, especially those from New Orleans, this piece shows no trace of die rust.
The die characteristics on this piece and we assume on the other 1895-O proof and specimen strikes, are:
Incomplete die polish in the field immediately between the upper and lower folds in the cap.
Evidence of heavy die lapping, most easily seen on the lowest curl and truncation of the neck of Liberty around the designer's initial, making that portion of the curl seem to "float."
Several other spotty areas of die polish on the obverse: in front of the eye, within the ear, below the ear, and several other patches of polish are scattered throughout the hair.
The reverse die was also heavily lapped. Several of the peripheral letters, especially the I in UNITED are attenuated.
Incomplete die polish is seen between the eagle's neck and right (facing) wing, within and around the bowknot, and around the berries in the first cluster just right of the bowknot.
These characteristics are roughly equivalent to what may be found on Philadelphia proofs of the same era. Not only is that remarkable when compared to P-mint coins, but it is unprecedented in our experience among branch mint proof strikings.
In the July 2007 Numismatist, Neil Berman wrote a column titled "Morgan Proofs and Specimens" in which he laid out the general guidelines for branch mint proofs and briefly reviewed those he had seen. For the general guidelines, he wrote:
"These pieces display bold detail for the date, although weak strikes are acceptable on those issues that typically are not sharp. Proof and specimen examples exhibit square or wire rims because of the extra pressure put on the planchet during the striking process. Since the U.S. Mint did not dump these Morgans into sacks following their manufacture, they are devoid of bagmarks, although other damage can be present. Such coins should exhibit deeply reflective proof fields (a result of the specially polished planchets and polished dies). Lastly, all the coins have mintmarks. "A lack of any one of these characteristics does not disqualify a coin from being a proof or specimen, but the absence of several certainly puts the coin in question. Keep in mind that the equipment at the branch mints was inferior to that at the Philadelphia Mint; consequently, their products tended to be of lesser quality." [Emphasis ours.]
This dollar meets all the criteria set forth above, except for squared rims. The lack of squared rims was certainly not from a lack of striking pressure, though. Unlike most 1895-O dollars, which are poorly struck, this piece has an absolutely full strike. That means complete hair detail over the ear as well as full feather definition on the eagle. The fields show extraordinary depth of mirroring, quite unlike that seen on Morgan dollars of other dates that are Deep Mirror Prooflike. Die polishing is complete from rim to rim, except for the minute areas noted above. And as Berman noted in his column, this piece lacks bag marks.
There are contact marks, as one would expect to see on a proof, but it lacks the tiny abrasions Morgan dollars display that were housed for years or decades in canvas bags. The most obvious contact mark is a shallow, angling abrasion just behind the mouth of Liberty. On the reverse, there are three shallow planchet defects in the field below ED of UNITED. Otherwise, the surfaces are brilliant with no evidence of color on either side. The devices are nicely frosted, yielding noticeable field-device contrast on both sides. In-person inspection of this dollar will remove any doubt from a prospective bidder's mind. As Walter Breen used to say, "It carries its own credentials."
Website Tips: Adding images of items to MyCollection
The Heritage "MyCollection" feature allows you to link your collectable automatically to any image you choose.
To link an image to your item, go to its listing within "MyCollection". Click on the corresponding link.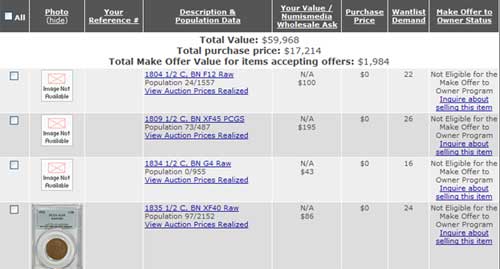 This will bring up a menu that will allow you to edit specific information corresponding to your coin.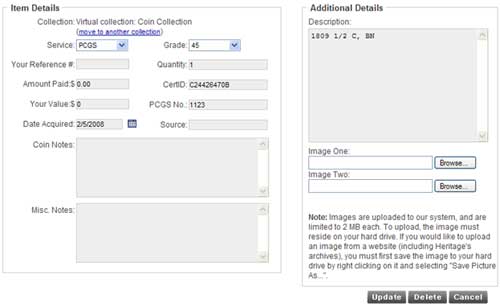 On the right side of this page are two boxes entitled "Image One" and "Image Two". To get your picture to appear, just click on the browse button and find the image. For space reasons, images are limited to 2 MB each.
To save the images and any other changes, click on the Update button. Once you go back to your collection listings, you will see the image(s) appear.
Of course, once you have started up any collection under MyCollection, any item that you have ever bought directly from Heritage will be automatically added to your MyCollection. You need do nothing more in order to have a complete listing of these items, including purchase price and images!
This Week's Top Ten
The ten highest valued branch mint proofs or specimen strikes to sell in Heritage auctions:
Repeat appearance of two coins have been omitted, as have patterns.
Do you have a suggestion for a future top ten list? Send it to us!